If you love creamy mushroom sauces, this vegetarian pasta dish is the one for you. When I was filming the latest TV series I prepared it at the Tuscan winery Casa al Vento for my friends Francesco and Giuseppe, after a well-deserved Chianti Classico wine bath. Yes, that's right – I bathed in red wine. Apparently, the Romans believed bathing in wine purified the skin and had rejuvenating powers. Of course, I now look 20 years younger!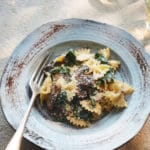 Ingredients
3 tbsp olive oil

50g salted butter

1 tbsp fresh thyme leaves

600g mixed wild mushrooms, cleaned and roughly sliced

2 garlic cloves, peeled and thinly sliced

100ml dry white wine

400ml double cream

2 large handfuls of fresh spinach, thick stalks removed

500g dried farfalle

30g freshly grated

Parmesan cheese

Salt and freshly ground black pepper
Instructions
Fill a large saucepan with 4 litres of water, add 1 tablespoon of salt and bring to the boil over a high heat.
Meanwhile, heat the oil, butter and thyme in a large frying pan over a high heat. Add the mushrooms, season with salt and pepper and fry for 5 minutes, stirring occasionally.
Add the garlic and fry for about 8 minutes. Pour over the wine and bring to the boil for 2 minutes. Reduce the heat to medium and stir in the cream and spinach. Cook for 5 minutes, stirring occasionally.
Cook the farfalle in the boiling water (uncovered) until al dente. To get the perfect bite, cook the pasta 1 minute less than instructed on the packet. Stir every minute or so.
Drain and tip the farfalle into the sauce, off the heat. Add half the Parmesan. Stir for about 20 seconds to combine.
Transfer to warm bowls, sprinkle over the remaining Parmesan and serve immediately.
Gino's Italian Express by Gino D'Acampo is published by Hodder & Stoughton, £20